SAP S/4HANA Migration Solutions
The RIGHT Approach to your S/4HANA Journey
SAP's Next-Generation ERP System
If you're running an SAP ECC ERP system, you are going to have to migrate to S/4HANA prior to the end of the standard support contract in 2027 (or extended support contract in 2030).
The migration process can seem complex, challenging and resource intensive, which may be causing some companies to put it off longer than they should. The fact is that now is the time to plan your system migration, so you have access to the best outside resources to help you make that transition in the most cost-effective, timely and efficient way possible.
SAP S/4HANA is a future-ready enterprise resource planning (ERP) system with built-in intelligent technologies, including AI, machine learning, and advanced analytics. It transforms business processes with intelligent automation and runs on SAP HANA – a market-leading in-memory database that offers real-time processing speeds and a dramatically simplified data model.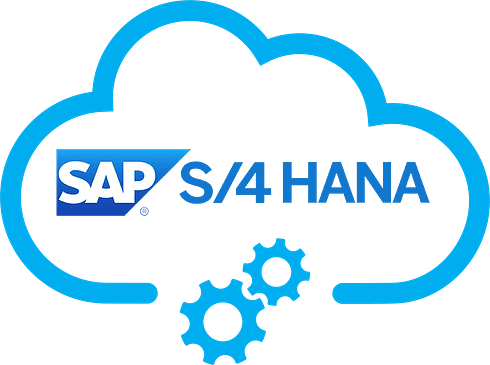 Why should you start your move to S/4HANA now?
What options are there for S/4HANA implementation?
To determine your best option for moving to S/4HANA, CCP Global will help you evaluate any potential blockers, like un-supported add-ons, and check compatibility with your landscape in order to make recommendations for an approach customized to your organization.
This 'Phase Zero' is part of the standard SAP Activate methodology and ensures that your deployment is set up for success. The steps to prepare are a System Evaluation/Readiness Assessment, Architecture Review and Future State Roadmap development.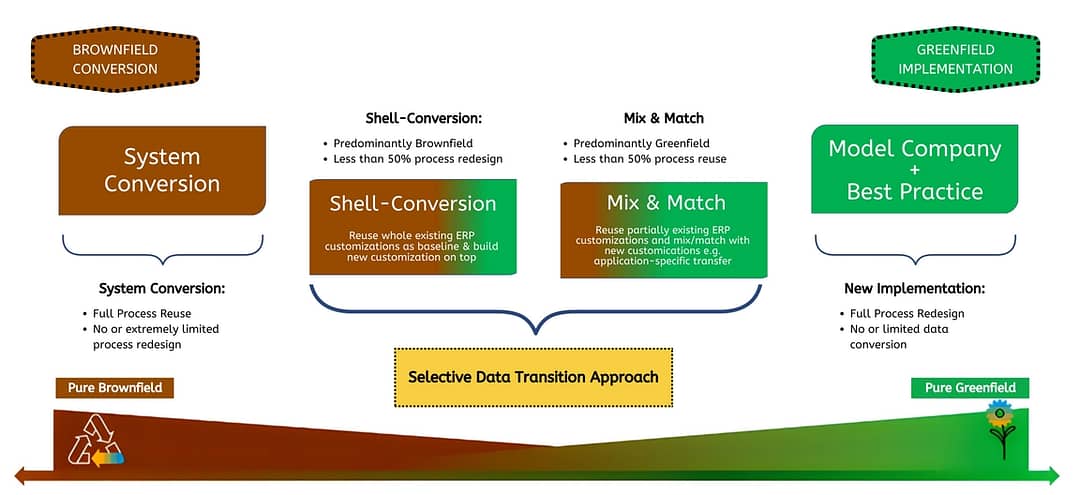 New Implementation (Greenfield)
This option means starting from scratch, creating a procurement landscape that conforms entirely to your needs. The migration is done parallel to your current processes, so it can be done with minimal to no disruption. You also don't have to have SAP ECC today, you can start with any ERP. Hosting can be done on-premise or in the cloud. This is SAP's recommended "best practice" approach.
System Conversion (Brownfield)
A complete technical-in-place conversion of an existing SAP ECC system to S/4HANA, resulting in a true upgrade conversion. The brownfield alternative is SAP's recommendation for customers who want to migrate to S/4HANA but preserve the value of the time and effort invested in adapting SAP ECC to their needs. It's faster and easier than the Greenfield approach, but should only be deployed on-premise. This is the best option for companies that have a very customized ECC environment that requires these customizations to be retained during conversion.
Selective Data Transition (Hybrid)
Taking a hybrid approach to migration allows you to consolidate several ERP systems to one SAP S/4HANA central system. Called Selective Data Transition (SDT), it uses a combination of Greenfield and Brownfield. With Selective Data Transition and help from our SAP experts, you can move to SAP S/4HANA smoothly and efficiently – with minimal downtime before going live. SDT is relevant for customers moving from an existing SAP ERP solution to SAP S/4HANA on-premise or SAP S/4HANA cloud, private edition.
Selective Data Transition for Mid-Market Approach
CCP Global recommends utilizing our customized 'Selective Data Transition for Mid-Market' approach when there are no blockers to this type of implementation. Our team will help you to map out each module, component and individual process expected to be affected by the new environment and make decisions regarding what to streamline, improve or retain.
This hybrid approach should be considered when organizations need to:
Go live in phases such as by country or business unit or to scale to certain budget restrictions to spread the cost of the investment over multiple years
Reduce re-implementation effort by retaining processes that are working well in the current state
Prioritize critical processes for conversion based on organizational goals
Reduce risk associated with a big bang go live
Merge existing SAP ERP instances
Avoid bringing over large amounts of old, irrelevant data to reduce the duration of conversions and cutovers
CCP Global has served as the leading SAP Ariba service partner for a major commercial airline supporting a suite-integrated SAP Ariba solution consisting of SAP Ariba Buying, SAP Ariba Contracts, SAP Ariba Sourcing, and SAP Ariba SIPM with integrations to SAP ECC and ServiceNow. CCP Global designed the solution and provided outsourced administration and enhancement services over an 18-month project duration. After implementation, CCP Global partnered with the client to drive user adoption of the system, rolling out comprehensive training and change management platforms to standardize business processes utilizing SAP Ariba among end users.
A multi-billion-dollar chemical company was struggling with slow, inefficient processes due to multiple systems and outdated procedures. CCP Global was chosen to configure, design and deploy Ariba Buying and Invoicing. That included Guided Buying, Procurement Operations Desk, Tactical Sourcing, and all associated workflows. Because of the complexity of the project, it was deployed in two phases. Go Live was an outstanding success with limited issues and overwhelmingly positive feedback from users. The company eventually contracted with CCP Global's Ariba Managed Services (AMS) for extended support and administration.
For over 15 years, CCP Global has provided support for a major media and entertainment corporation's strategic SAP Ariba projects. Most recently, CCP has been supporting Source-to-Pay (S2P) business transformation. The current deployment phase is focused directly on SAP Ariba Buying and Invoicing. This is a holistic approach to transforming the Global S2P processes being driven by the business, in partnership with their Organizational Change Management (OCM) and their technology partners. From the technology perspective, this entails sunsetting SAP Ariba On-Premise and standing-up their SAP Ariba On-Demand applications. In addition, as the suppliers are on-boarded, they will transact within the Buying and Invoicing feature of AOD.
Winning a competitive RFP, CCP Global was chosen by a global leader in housing and building to implement a suite-integrated SAP Ariba solution consisting of SAP Ariba Buying and Invoicing and SAP Ariba Strategic Sourcing suite. Experiencing rapid growth through merger and acquisition, the client was faced with the technical and organizational challenges that accompany the move to a centralized model of spend management. This was completed while maintaining compliance with the laws and regulations of the various areas of the world in which the company conducts operations.
CCP Global has completed two successful SAP Ariba projects for an electronics solutions corporation, including acting as the principal architect in the implementation of an SAP ECC-integrated SAP Ariba Contracts solution with training and change management on behalf of users in North America, Europe, and Asia. In addition to supporting downstream S&OP programs in the ERP, the scope of the project included configuration of advanced aspects of Ariba Contracts functionality (such as Contract Authoring) and release to the international team of contract specialists.
Start Your S/4HANA Migration Journey.