Greenfield, Brownfield, Hybrid: S/4HANA Conversion Options
There isn't a one-size-fits-all method when it comes to making the transition to S/4HANA and which approach you choose will depend upon your current situation. In this article we look at the three options -- Greenfield, Brownfield and Hybrid -- and discuss which option might be best for your organization and why.
The Deadline is Looming
In the first article in our series on SAP Ariba S/4HANA migrations we discussed the inevitability of the need to upgrade by 2027. And we recommended doing so sooner rather than later for a variety of reasons. One is that you'll need to make a decision on which if the three S/4HANA conversion options work best for your situation: Greenfield, Brownfield or Hybrid.
Options for Conversion
Greenfield
This is the recommended 'best practice' approach from SAP. It allows you to start from scratch with a new implantation.
This is the path to take if you don't have an existing SAP system, you're not on an SAP ERP system of any sort, such as SAP Business Suite, you don't have a deployed ERP system, or you have ECC but you want to start with a fresh implementation.
In a Greenfield deployment, any customization done on SAP ECC 6 is completely wiped away during implementation. This approach might be the best choice for your company if:
Your ECC system is out of date and/or deployed many years ago.
Your business model has changed because you have acquired or divested business or facets of the business.
Your current system is highly customized.
Current business processes do not support long-term strategies.
Key value drivers include landscape consolidation and process harmonization.
Greenfield is the least complex of the three choices and gives you maximum agility with the option to deploy S/4HANA as a cloud deployment.
Brownfield
This approach allows you to implement a true upgrade or conversion of your system. This is the fastest and technically easiest option to convert any SAP ECC 6.x system, running on any database, to SAP S/4HANA. However, this option is only available to customers currently running SAP ECC 6.
This might be the best option for your company if:
ECC is being used in a single stack, Unicode system.
All historical data needs to be retained.
The software landscape requires retention of most or all past customizations.
You prefer to gradually adopt the S/4HANA processes.
You wan to minimize downtime, costs and risks.
Brownfield should be deployed on-premise only; you should not use the cloud version of S/4HANA if you choose the Brownfield option. The benefit of the on-premise deployment is the option for maximum levels of customization, but the deployment will be longer and more cumbersome than a cloud deployment.
Hybrid
The hybrid implementation is probably the most widely used model. It is a good choice when you need to redesign some of the workflows and systems, while also maintaining critical customizations and solutions. Simply starting over from scratch or transferring your data and workflows over to a new version of SAP is going to cost both time and money.
A hybrid approach—which cherry-picks the best parts of Greenfield and Brownfield implementations—is best for large companies with a lot of data and complex systems. Consider this approach when you want to convert your existing system but want to customize functionality. Many companies use this as an opportunity to clean up processes and eliminate unused functions.
This is a good choice if:
You're combining multiple ERP systems.
You have some complex changes that you want to make.
You want to leverage your existing solution and save historical data.
Many interfaces to other SAP solutions and third-party systems must be maintained.
You want the maximum customizable option.
So, in a fairly simplistic nutshell, with the Hybrid approach, you use a combination of Greenfield (starting from scratch) and Brownfield (keep some existing solutions).
However, because the hybrid option includes an aspect of Brownfield deployment, an on-premise deployment of S/4HANA is recommended.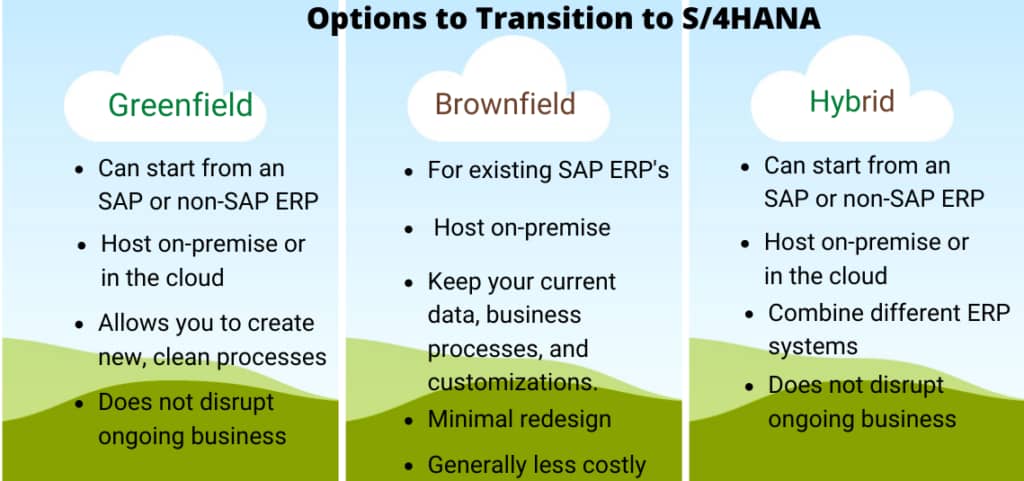 Another deadline to keep in mind: If you have Ariba, you must move to Ariba's Cloud Integration Gateway, or CIG, before Dec. 31, 2023. There will be no additional maintenance provided by Ariba for CI9 after that date. Here's what you need to know. 
If you're worried about cost or are a mid-market company trying to decide how to approach this transition, check out our articles on Mid-Market S/4HANA Migration and Right-Size Your S/4HANA Migration: a Low Stress Approach.
Need Help Sorting it Out?
We're the experts.